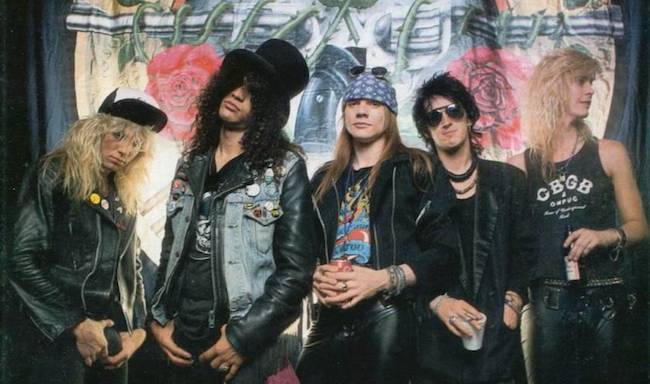 11/16/2015
Dear Axl and Slash,
I hear you two have finally buried the hatchet. That's nice. It's not good to hold grudges against old friends, particularly friends that have accomplished so much together. So congratulations on letting bygones be bygones and reconnecting. Did you hug it out? I bet that smelled weird.
I also hear that now that you're pals again, you've decided to get Guns N' Roses back together for a world tour that will presumably make all the money (adjusted for inflation). That sounds interesting at first blush, but it also raises a lot of questions. As declining attendance and brutal reviews for recent "Guns N' Roses" shows suggests, even the hugest GNR fans — of whom I was certainly one back in the day — don't want to go to just anything labeled "Guns N' Roses."
If the legendary excess of the 1991 Use Your Illusion tour (which I saw in both D.C. and Philadelphia) is any indication, I assume that the rider for this tour will be roughly the size of a phone book, and given that you'll be earning the GDP of a midsize industrialized nation, that is to be expected. But there are a few things we will need in order to fulfill our side of the contract, so before you announce the tour you'll want to take a look at our rider:
1. Axl Rose will be present and prompt. Failure to appear on stage within one (1) hour of the appointed hour will result in death by firing squad. Note that you still get an extra hour for whatever rigorous program you've been using to <sarcasm>keep your voice so sharp for all this time.</sarcasm> The bathroom lines at the arena will be long, let's be honest; we could probably all use a little extra time. But we all have kids now and babysitters are expensive, so chop-chop. I didn't mind so much waiting two and a half hours at the Spectrum when I was 18, but that was because we brought two flasks into the venue.
Axl will appear wearing none (0) of the following: Lycra bike shorts, oversized Charles Manson t-shirt, kilt, gold fronts, dreadlocks, yellow slicker, goatee, ghastly facelift. Axl will be permitted to lip-sync to a pre-recorded vocal track because, let's be honest, if we let Axl sing at this thing it's ruined by the middle of the first verse. Have you heard him lately? Let's be honest: do you want to hear him sing, or do you want to see him serpentine?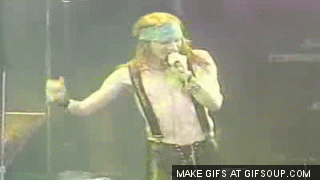 2. Slash will be present. Obviously, it's not Guns N' Roses without Slash, and whatever Slash needs to do to make sure he is present to do his thing will be tolerated. Slash has never been the problem. Just don't wear the leather top hat; it's too much.
3. Izzy Stradlin will be present. No Izzy, no dice. Izzy started the band with Axl, was the band's key songwriter, easily its coolest member, and the one who kept it real enough to quit the band when Axl started acting like an asshole. He was the band's conscience and its soul. It is no coincidence that they forgot how to write songs after he left; Izzy cowrote nearly all of Appetite For Destruction with some combination of Axl and Slash, and he wrote "Patience" and everything that didn't suck on the Use Your Illusion albums, but he quit the band because a) he had become a serious addict and had some embarrassing/amazing incidents under his belt, including urinating onto an airborne 767's beverage cart (only like the greatest piece of rock lore ever) and b) he was sick of Axl's shit. Losing him was the end of the band as an artistic unit: Guns N' Roses post-Izzy, including the second half of the Use Your Illusion tour, was nothing but a touring cash harvester. But the thing about Izzy is, if he doesn't show, it's not because he's not invited. Izzy's always invited. For whatever reason, he's very, very leery of Guns N' Roses. He hates the hugeness of it, and a real reunion would be the hugest hugeness of all. Maybe he's up for it; he's joined Axl Rose® presents Guns N' Roses® featuring Axl Rose® onstage a few times in the last several years. But then again, maybe he's not: he didn't show up for the Rock and Roll Hall of Fame induction, even though he jammed in the studio with Duff earlier that day.
Izzy's weird, and whether or not this thing happens is very likely his call. But if he doesn't show, this contract is NULL AND VOID. Don't try slipping Gilby Clarke or whatever sentient dark-haired guitarist is laundering Axl's jock these days in there; Izzy or no deal.
4. Duff McKagan will be present. Obviously, Duff will be present. He was the last original member to leave the band, and after hitting a pretty gnarly rock bottom toward the end of GNR's original run, he got sober, became an expert martial artist, got a business degree, and is now a financial writer in addition to his rock duties. He's the only one who never had serious beef with Axl, and he's probably the only one who can actually remember all the songs. Duff is an amazing success story, and his surprisingly excellent autobiography (worth reading if only for the parts about neighbor Sly Stone making frequent use of Duff's bathroom to smoke crack) makes a convincing case that he was the glue of the band. I love ya, Tommy Stinson, but you're in Duff's seat.
5. Steven Adler will be present behind the drums. REPEAT: STEVEN ADLER WILL PLAY THE DRUMS. Don't you dare try to roll that dude with the vest and the ponytail out again. The first time he hit his grotesquely over-reverbed snare on the first track of Use Your Illusion, Guns N' Roses was ruined. Steven Adler was famously fired from GN'R for the ridiculous crime of being too fucked up, which is kind of like kicking Richard Petty out of the Winston Cup for speeding. But heroin or no, the swing Adler found with Duff is the whole reason Appetite For Destruction is so good.
Adler had a great, restrained sound and a funkiness that was sorely missed on the Use Your Illusion albums. Yes, he is a stone dope fiend, as we have seen on his unfortunately compelling, occasionally hilarious run on VH1 rehab shows. But he has never stopped playing with his GN'R cover band, Adler's Appetite, he sounded great at the Rock and Roll Hall of Fame, and nobody needs this reunion more. I would venture to say that nobody has ever needed anything more than Steven Adler needs to be part of a Guns N' Roses reunion. I have faith that he could curtail his drug regimen enough to hold it together; he has spent 24 years regretting not holding it together the first time. Do you see the smile on his face at the Hall of Fame? I have faith in Steven Adler. And as for the supposed agreement he has with Matt Sorum, where they both do the reunion and only do the songs they each recorded…
6. Matt Sorum will not be present. Make no mistake: Matt Sorum is the Sammy Hagar in this situation. He took a good thing and made it objectively cheesier. There is a good case to be made that the whole reason Izzy bailed is because the sound of the band changed so much with the change of drummer; Sorum's big shitty echoey drum sound totally ruined the Use Your Illusion albums. (That and Axl's apparent need to vomit blackfacey patter all over every song.) Which reminds us:
7. Axl Will Not Indulge in Any Blackfacey Patter or other weird voices. It is seriously uncomfortable and embarrassing. "Breakdown" from Illusion II would have been a great song without Axl's Amos & Andy voice at the end. "Double Talkin' Jive" and "Bad Apples" from Illusion I were similarly ruined. I didn't listen to Chinese Democracy because of course I didn't, but in his amazing review of that album Chuck Klosterman alludes to Axl's fondness for a Mexican vampire accent. Come to think of it, let's just hold off on the recitations altogether, weird voices or no.
8. No grand piano. You guys can't tell me you look at the old footage of the white grand piano at center stage and do anything but wince. Isn't this the exact moment the band threw in the towel and became Axl and Company?
9. No backup singers. Oh, does that mean you can't play your shitty cover of "Knockin' On Heaven's Door?" Bummer.
10. No horn section. Oh, does that mean you can't play your shitty cover of "Live and Let Die?" So you can't completely mangle the lyrics with the inane "but in this everchanging world in which we live in." IN WHICH WE LIVE IN? It's "in which we're living." How could anyone sing "in which we live in"?
11. No orchestra. Oh, does that mean you can't play "November Rain"? Who are we kidding, you'll play "November Rain" no matter what happens. Just don't do it at a white grand piano.
In short, we want this band:
Not this band:
And please god not this band:
We have every confidence you'll find these terms reasonable and agreeable, as they will pretty much guarantee the paid attendance of every white person between the ages of 35 and 50.  Failure to comply with any of the above conditions will result in nobody coming to your dumb obvious cash grab of a show.
Sincerely,
The People Dumb Enough To Think For Even A Moment That This Is Anything But A Terrible Idea