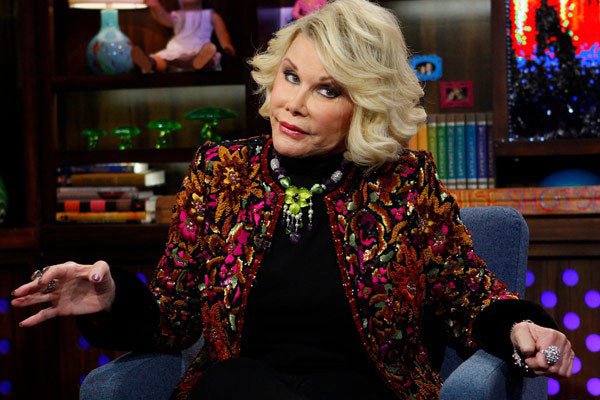 The comedy world has spent the last week holding its collective breath and saying its prayers for Joan Rivers, who went into cardiac arrest during a procedure at an outpatient facility, was rushed to a proper hospital, placed in a medically induced coma, put on life support, and has most recently been moved out of intensive care and into a private room, where she remained on life support while her daughter, Melissa, reportedly had Joan's hair and makeup done (presumably in case the pearly gates have a Fashion Police checkpoint). Sadly, Joan Rivers, one of the most driven and fearless entertainers of all time, died on Thursday at the age of 81.
Rivers' cardiac arrest happens to have occurred just before Labor Day weekend, when in years past Melissa and anyone else in a hospital waiting room could while away the holiday by watching Jerry Lewis' telethon to benefit the Muscular Dystrophy Association. Lewis had been the face of the charity for 45 years before an ignominious parting of ways with the organization three years ago under mysterious circumstances.
Suspicious timing, if you ask me.
Just a few months ago, Jerry Lewis was interviewed by Maria Menounos at the Friars' Club for SiriusXM, and when Joan Rivers' name came up, Lewis had some rather tart comments:
"I always feel bad if when somebody passes away, except it if was Joan Rivers," he told Menounos, apparently apropos of nothing. Lewis went on to explain that Rivers had "attacked [him] in the press" by suggesting that the annual telethon was keeping his career going, Lewis sent her a letter, which he said went:
Dear Ms. Rivers,
We've never met and I'm looking forward to keeping it that way. If you find it necessary to discuss me, my career, or my kids ever again, I promise I will get somebody from Chicago to beat your goddamned head off.

P.S. You do know that you're not allowed to threaten people. So if you go to [the police], show them this letter, they'll arrest me. But I want you to never forget what it said.
"Somebody from Chicago?" I have to assume this is an allusion to The Outfit, La Cosa Nostra, whatever you want to call it — in Jerry Lewis' day, the whole entertainment business, particularly the Vegas showrooms where he made his bones with Dean Martin, was, let's just call it a "cash business."  It would have been weird if he didn't have deep Mob connections, much like his close personal friend and frequent Telethon guest Frank Sinatra.
Once more, just to be clear: Jerry Lewis recently made a point of telling a live audience that he once threatened to have Joan Rivers killed if she ever mentioned him again.
Asked about these comments a few days later by another SiriusXM host, Rivers gave her side:
Rivers explained that she had performed on the MDA Telethon years ago (when her husband was still alive, so the '80s or earlier) and was appalled when Lewis put his arm around a little boy and told the worldwide TV audience that the kid was going to die, so they should donate. When she publicly declared that she would never do the telethon again, Lewis threatened her (presumably with the note above) and she decided never to mention it again, lest Jerry follow up on his threats, which I think we can agree were quite chilling — particularly coming from a comedian (or in this case, "comedian") who should have slightly thicker skin.
It's interesting that, in his letter and in the interview, Lewis claims never to have met Joan Rivers, because she clearly claimed otherwise. (Google does not prove or disprove Rivers' claim to have done the Telethon.) But I can tell you for a fact that Jerry Lewis met Joan Rivers.
Lewis appeared as a guest on the second episode of THAT SHOW WITH JOAN RIVERS, her 1968 daytime talk show, along with a child psychologist to discuss children in show business, a topic Lewis was qualified to speak on because A) his parents were in show business and B) his son, Gary Lewis, was a musician who scored some pop hits in the 1960s with his band, Gary Lewis and the Playboys. At the time Jerry Lewis was one of the biggest stars in the world and Rivers is clearly awed and grateful that he would appear on her show. Lewis, for his part, is aloof and almost totally humorless, which squares with his behind-the-scenes reputation.
But the interview gets really interesting when the topic turns to child discipline and corporal punishment.
"The parent that cannot discipline their children, I have found, are parents who cannot take the pain. By their not being able to take the pain, the child is never really made aware how much they represent to the parent." He seems to be saying that beating your kids is the only way to let them know you love them, I think?
Things really get alarming in the second part of the segment, when the doctor sketches out a method of discipline that seems to presage the "Time Out" method now in vogue, 45 years later:
Lewis calls hitting a child a form of love, and relates a story about how he beat Gary with a belt when the boy brought home an unsatisfactory report card, then eavesdrops on the boy crying to his mother via a then-state-of-the-art intercom system. "Daddy is the only one who really loves me," he claims Gary said.
Admittedly, this has little to do with Joan Rivers' death, but it is interesting because A) it proves that Jerry Lewis and Joan Rivers met B) Jerry Lewis is every bit the asshole his reputation would suggest and C) he is no stranger to solving problems with violence.
Anyway, when Rivers was asked about Lewis' recent comments about her, she called him an "unfunny, stupid asshole" and repeated her complaint about his using the child as a prop at the Telethon.
It seems obvious what happened here: Lewis got wind of Rivers' comments, which violated his edict never to discuss him or his kids (she didn't mention his real children — or that he admitted to beating them on her show — but children that appeared on the telethon were long known as "Jerry's Kids"), and decided to make good on his threat to have her killed?
The news that the clinic where Rivers' outpatient procedure went wrong is now under investigation does little to disprove this notion. Did Jerry Lewis hire some goons from Chicago to see to it that Joan Rivers had an "accident" during her outpatient procedure so that he could spend Labor Day Weekend cackling over her untimely demise?
Of course not. That's ridiculous. But Jesus, what an asshole.
Rest in peace, Joan.
She went under anesthesia thinking "I'm at Foxwoods next week" and never woke up. Ideal way for someone as driven as #JoanRivers to go out

— Alex Castle (@alexcastle718) September 4, 2014