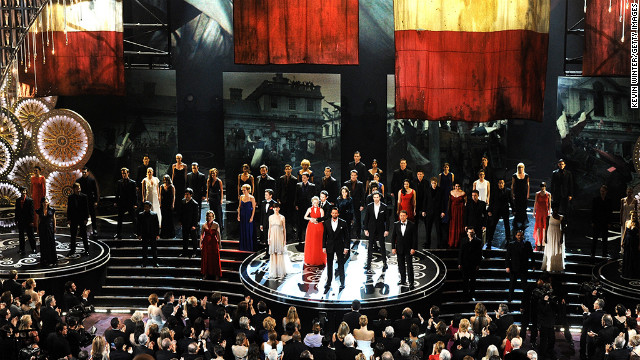 If you have access to a television/computer/newspaper/magazine/set of functioning eyes and ears, you are surely aware that the Academy Awards are coming up this weekend. If you are someone who loves the Academy Awards, who pops popcorn and invites friends over to watch and has an Oscar pool, then I sincerely wish you a pleasant evening of entertainment and I hope you enjoy every minute of it.
But the rest of you, the ones who are going to complain on Twitter and Facebook about how long the show is, or how lame the opening song-and-dance number is, or how lame Ellen is as a host, or the injustice of Paul Walker's obituary reel being shorter than that guy from Glee', take a deep breath and try to remember: you don't have to watch the Oscars. This is not a Clockwork Orange type of situation. You have free will. Remember last year when you tweeted, "remind me not to watch the Oscars next year"? Consider yourself reminded.
Each and every one of your criticisms will probably be valid. That is why I will be watching True Detective on Sunday night instead, though I would probably watch a rerun of Airwolf before I'd watch the Oscars live. I haven't watched the Oscars live since the year American Beauty won Best Picture and Kevin Spacey went into the witness protection program for the next 12 years. (I honestly thought, until House of Cards came out, that he was dead.)
Ironically, I've seen a lot of the movies up for awards this year and I have some strong opinions on what should win:
BEST ACTOR: Since he's basically playing both the Denzel Washington role (homophobe who learns to ease up a little) and the Tom Hanks role (sick with full-blown AIDS) from Philadelphia, I feel like McConaughey's a lock. DiCaprio was pretty great in The Wolf of Wall Street, so I'd slot him #2. But the cultural momentum of the McConaughssance — particularly as the phenomenal True Detective is cresting — is just too much. McConaughey's been excellent in his last six or seven projects. Check out Mud, Killer Joe, The Lincoln Lawyer, Bernie, and Magic Mike if you don't believe me.
BEST ACTRESS: American Hustle is way overrated in every way, including Amy Adams' performance, even though she was the best thing in the movie. I found Cate Blanchett's performance amazing until I realized that, whereas most male leads in modern Woody Allen movies are doing their impression of Woody Allen, Blanchett was doing her impression of Judy Davis in Husbands and Wives, which took a lot of the shine off. I think Sandy Bullock (I call her Sandy, we're cool like that) deserves it the most — in addition to the acting, which had more than a few difficult emotional beats, there was an enormous physical challenge involved with shooting Gravity from a visual-effects perspective, and she absolutely crushed it — but I don't think she'll win, Blanchett will. Which will kick off an interesting set of possible scenarios: Does she thank accused child molester Woody Allen from the stage? If she does, what does that do to her career? Will Mia Farrow dump a bucket of pig's blood on her from the proscenium if she does?
BEST PICTURE: Gravity, without a doubt. (Though I admit, I didn't see 12 Years a Slave, for the same reason I didn't see The Passion of the Christ or Faces of Death.) Gravity was the most exciting experience I think I've ever had in a movie theater. As opposed to the other movies, which all had great scripts and great performances, Gravity advanced the art form of cinema — and did it without completely sucking (coughAvatarcough). It made 3D , which I usually don't like at all, more than a cheap gimmick. My usual litmus test for whether a movie is any good is whether I think about it afterward. American Hustle didn't even stay with me all the way back to my car. Gravity I couldn't stop thinking about for weeks. People complained about the dialogue. There was dialogue?
BEST SUPPORTING ACTRESS: Don't really care, but I feel like Jennifer Lawrence was miscast in American Hustle. I like her a lot and she did a great job in the role, but I feel like the put-upon wife shouldn't have been 15 years younger than the mistress. But I won't lose any sleep if she wins.
BEST SUPPORTING ACTOR, SCREENPLAY, VISUAL EFFECTS, EDITING, ETC ETC ETC: Who cares?
Even though I have a rooting interest this year for the first time in recent memory, I'm not the least bit tempted to watch the show live. If ever there was an ideal show to skip and catch up on in the morning on the Internet, the Oscars is it.
Let's see: five hours of bad commercials, hacky jokes, embarrassing production numbers, mismatched pairs of movie stars squinting at the teleprompter, dumbfounded winners half-forgetting long lists of agents, managers, and personal stylists no one has ever heard of, and the three interesting speeches of the night being cut short by a crappy orchestra…. OR, 30 seconds reading a list of winners on the Internet, followed by eight minutes watching the two or three memorable moments of the entire show on YouTube?
For me, it's an easy choice. I'm going toward the light (calling True Detective "the light" feels a little strange, but I think you know what I mean). Whatever your light is — the Oscars, transcendental meditation, ancient Chinese poetry — go to it. Don't shit on the Oscar-lovers' good time. It's not half as clever as you think it is (as I have plainly proven with this baldly hypocritical piece).