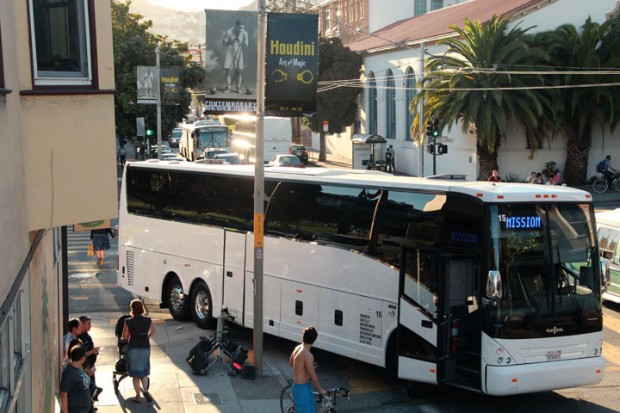 I have never started a post with such trepidation before — I'm terrified that I'm about to alienate a lot of people who I dearly love by stating an opinion (any opinion) on the topic of the changing face of San Francisco.
In case you're unfamiliar with what's been going on: with the ascendance of Google, Twitter, Facebook, Apple, and other tech companies based in the Bay Area, San Francisco real estate, long the most expensive of any city in the U.S., has climbed once again to heights affordable only to the affluent. The situation seems to be exacerbated by the fact that the aforementioned tech companies are a) in a hiring boom and b) offering free commuter service to their employees via giant, wifi-enabled luxury bus. Thus, the city has been flooded with well-paid 20-something software engineers, longtime residents are feeling the squeeze of increasing rents and evictions, people are throwing rocks at the buses, the people on the buses are saying ungallant things about SF's out-of-control homeless problem, and no one is coming off well in the comments sections.
I have been following this subject with great interest from a distance. I used to live in SF, I love the city and had some, probably most, of the best times of my life there. So take all this in the spirit I intend it: great affection.
What's striking about this debate is that no one is really wrong. Google et al are not wrong to do what they can (in this case provide the option to live in a world-class city) to attract the talent they want. The talent they want is not wrong to accept the perks (including but not limited to commuter bus service) Google (et al) offers to attract them. Nor are they wrong to live wherever they want. (By the way — a 40-mile commute doesn't sound the least bit strange to anyone who's ever lived in the suburbs.) It is a free country, right? People are still free to live anywhere they can pay the rent, right? If you want to commute two hours a day, four hours, eight hours, who's to tell you no?
Yet on the other side, SFers are not wrong to hate fleets of 18-foot tall buses patrolling their narrow city streets, or rising rents, or increased evictions, or fro-yo places going in where that great dive bar used to be, or your favorite band leaving town. I get it. Your rage is completely justified. But it's also kind of misdirected.
There are a million different things that are coming together to change SF the way it's changing, and most of them have been baked into the city for decades if not longer. To name only a few: Limited real estate inventory — lowered supply. Rent control makes staying in one apartment long-term very advantageous — further lowered supply. Lack of any buildings taller than 3 stories — even further lowered supply. Sky-high real estate prices make buying property unfeasible — raised rental demand. Zoning laws make it very difficult to buy a single apartment — raised rental demand. SF proximity to Silicon Valley — raised demand. And let's face it: SFers are very, very proud of where they live (I was too) and tell anyone who will listen that this is the greatest place on Planet Earth, well the word is out, Google's new hires want to live in the greatest place on Planet Earth — further raised demand. I can't pretend to understand the ins and outs of city planning, but I'm sure that plays a role, corrupt politicians play a role, corporate assholes play a role, etc etc etc.
Look at any of the comments sections where these things are being discussed. The vitriol being directed at tech workers is alarming. It's evidently very easy to lump all these people together and call them self-absorbed, elitist, entitled, and worse, but take a deep breath and try to remember: they're not an invading army, they have no mandate as a group to ruin the city, they're not the Borg. They live there because, just like you (and just like me), they think it's beautiful and artsy and full of things to do and close to amazing nature. They're just individual people that learned a very boring but high-paying skill, trying to get to work at jobs that command a salary most of us would jump at. And as individuals, none of them thinks that they're there to change the city in their image; they're there to get in on all that awesome that you guys have been crowing about since the first week you got there (just like I did).
I left the city in 2001 because when both my wife and I lost our cushy Web 1.0 jobs in the first dotcom crash, our rent was no longer sustainable ($1400 for a 2BR in Glen Park, isn't that adorable?). We had determined even before those pink slips came that we'd never, ever be able to afford to buy SF real estate — we came close to making an offer on a $450,000 shack (literally, a shack) in a part of the city neither of us had never seen before and never would again because it was the only thing we'd seen in a year of looking that came anywhere near our price range (not including the $250,000 of work it desperately needed), and we were at the time gainfully employed with Web 1.0 salaries. We saw that if we stayed, we'd always be at the whim of landlords, thus we'd never be really financially secure as long as we stayed there. Then we both lost our jobs, got service industry jobs and through no fault of our own lost those too, and the writing was on the wall: Time to go.
I feel bad for the artsy types that are getting priced out. I cried real tears when I had to leave too — I fed on the creativity and inclusiveness of the city, I felt I really came into my own thanks to the people I met there and the things I did and saw and heard. I met my best friends there, I met my wife there. Leaving was one of the hardest things I've ever done, and I still miss it.
But the way things are set up there, falling in love with San Francisco is kind of a devil's bargain: you get everything SF has to offer, you get to live among all these crazy, creative, driven individuals and do and see and hear and read all this amazing stuff and express yourself in any way you see fit but unless you make a lot of money or are at least working toward it, you know (or should know) the day will come that you can't afford to be there anymore. The only real, true rent control is owning the building; otherwise your landlord will eventually die or get divorced or decide to sell the building and retire to Costa Rica and all of a sudden you have to go to the back of the line and pay newbie rent like a schmuck. You can't afford newbie rent, you've been here since 1994, you've set up your whole life around paying 1994 rent, so now you're fucked.
It sucks that that's happening to so many people now, but it was and is inevitable, it's the nature of the city itself. It's a gold rush town, it always has been, and it's made itself over many, many times. People hated those of us who arrived in the '90s and called us gentrifiers, now the people who arrived in the '90s are yelling the same thing at these programmers.
You can't blame people for being angry. The stakes are high, as high as stakes can get short of life and death. But it's also curdled into something ugly that I don't recognize as the city that I loved. People are worked into such a froth that they are grabbing onto all kinds of complaints and arguments that don't make sense, or contradict each other, or are wildly unrealistic. They're pointing fingers and demonizing people based on what they do for a living in a way that feels as far as you can get from the inclusive, do-your-own-thing ethos that SF has traditionally been all about. A few of the sentiments I've encountered repeatedly in the lively comments sections of online pieces about all this:
"Without the buses, all these people would leave the city."
Ok, maybe they would, but how exactly would that work? Do you ban all private buses from SF city streets? Do you single out buses owned by certain companies? Do you set up blockades on the 280? As a practical matter, how would you accomplish this?
"The deal SFMTA struck with Google to use city bus stops is a drop in the bucket, Google can afford far more."
Sure they can, but what is it that you're asking for? California state law says the city can't turn a profit on fees like this, and if even a government as hungry for money as SF's can't gin up a justification to charge more than $1 per stop, it suggests that the financial cost to the city for the use of the bus stops is almost nil. Is the goal to make sure Google (et al) are paying for what they're using, or to punish them?
"Those fools are going to get what's coming to them when the bubble bursts."
Pets.com was a bubble. Google, Facebook, Apple, and Twitter are not a bubble.
"Techies are entitled, elitist assholes"
This is the one that really bugs me, because I have seen it so many times, slipped into so many comments about details like the buses or rent control. Certainly, SOME techies are entitled, elitist assholes. Some stockbrokers are entitled, elitist assholes. Some artists are entitled, elitist assholes. Some baristas are entitled, elitist assholes. What's entitled about accepting something you're being offered? What's entitled about working somewhere that values what you do enough to give you those perks? How is riding a bus elitist? What sounds elitist to me is writing off a whole section of people because they're not cool enough to live in your city. And expecting a city to stay the way you want it, even as time marches on is more than a little entitled. I would have loved to keep the life I had in San Francisco circa 1999-2000 frozen in amber forever, but the world just doesn't work that way.
Anyone can live anywhere they want, provided that they can pay the rent. And that cuts the other way, too: if you can't pay the rent, no such right exists. There's no extra points for seniority. Artists and weirdos don't get an exemption from the very most basic rules of capitalism because SF has traditionally been kind to artists and weirdos. This kind of thing happens everywhere that's kind to artists and weirdos, it's just more pronounced in SF because it's so small. New York has ten times the acreage and 100 times the vertical real estate. It will never run out of crappy neighborhoods that artists and weirdos can afford, but you can bet people are getting priced out all the time. It's just part of the deal.
Your rage is understandable, and if it were better directed would be completely justified. The city you've adopted as your home is changing in ways that aren't necessarily for the better. And I'm not saying you should just lay back and take it. I'm not saying you have to like it. I'm not saying you can't or shouldn't fight it. But the things that are causing it are not new, not even the buses.
I'm certain there are angles and dimensions to this that I'm missing. I haven't been to San Francisco in years, I've never seen one of these buses except in photographs like the one above. I don't have any answers to how to make it better. I'm not even sure it can be made better. It's just such a bummer to see a place that I remember as openminded, laid back, creative, nonjudgmental erupting with all this anger, everyone pointing fingers, blaming people that really aren't to blame. Come on, guys. You're better than this.