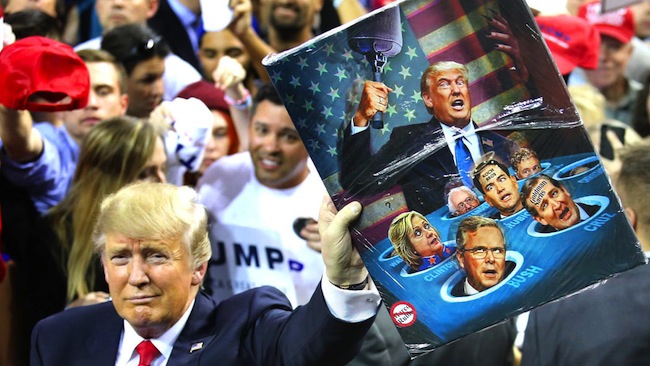 After a primary season that included approximately 247 debates, 63 candidates, more than 388,000 tweets (over 382,000 from @realdonaldtrump), and 44 "campaign-killing" gaffes (also all by Trump), and two party conventions, we've finally made it to the General Election. Break out the champagne, and the mood stabilizers!
The Democratic candidate, Hillary Clinton, somehow still standing after 25 years of (unproven) scandals while serving as First Lady, Senator from New York, and Secretary of State, would be the most unpopular major-party nominee of all time, if the Republicans hadn't nominated Celebrity Apprentice host and sentient Internet comment Donald J. Trump. Poor Hillary — always, it seems, a bridesmaid.
Having two such disliked candidates in the race suggests to some that this election will have a historically low turnout, because so few people are engaged and enthusiastic about the person representing their respective party. But then again, only on the rarest of occasions are we engaged and enthusiastic about our candidates in this country. We don't really vote for our party here so much as we vote against the other one.
And if there were one person on this Earth who could inspire an ambivalent Republican voter to get over their issues with Donald Trump (including but not limited to: total inexperience and laughable grasp of foreign policy, domestic policy, tax policy, or public policy of any kind, complete absence of any impulse control, near perfect ignorance of world history or events, catastrophic lack of empathy, transparently thin skin, long history of shady business practices, short fingers, weird hair, baffling tan, and Mob connections) just to vote against the other party, that person is Hillary Clinton.
Conversely, I have never been particularly enthusiastic about a Hillary Clinton presidential campaign for the simple reason that I am sick of the national political discourse consisting of shrieking about how awful Hillary Clinton is. She has been one of the ten most famous people on Planet Earth for 25 years now, and for 25 years people have been warning that she will bring our entire civilization down around us if she manages to gain another ounce of political power. Then she gets like ten pounds more political power, and nothing much really happens, except more shrieking.
In the hushed, ominous tones you'd use to describe a 60-foot murder robot moving block to block in your direction, they accuse this woman of a wide range of diabolical crimes, from theft to drug dealing to real estate fraud to murder to, finally, mishandling her email. Somehow none of it ever sticks — either because all this time Hillary has actually been Lex Luthor in a series of inexpensive blond wigs, or because there has never been any real case against her to begin with, I'm not sure which.
I'm not particularly for or particularly against Hillary Clinton.  She seems to me to be generally well-intentioned, certainly more competent than the average bear, painfully awkward on stage, and roughly as ethically compromised as the next politician. I'm not wild about the idea of our president list going Bush-Clinton-Bush-Obama-Clinton just on principle, and I don't find her particularly inspiring, but at the same time I don't particularly have anything against her. I'm just sick to death of hearing about her, and if she wins, these Chicken Littles are going to shriek even louder. They're going to make the way they treated Obama look like a rose-petal back rub, and I've seen that movie.
But I can get past all that to vote for her — or rather, to vote against Trump.
One of the most curious things about Trump's candidacy has been the fact that he so decisively won the Republican primary, despite the fact that he is all over the place in terms of policy, and far from a doctrinaire Movement Conservative. In her recent op-ed bemoaning the position Trump has put the GOP in (and the position the GOP has put Trump in), stalwart Movement Conservative Peggy Noonan put it:
Mr. Trump won with just less than half the vote, an achievement in a field that big, but also while representing policies that the formal leadership of the party in Washington finds anathema. He was the candidate who would control illegal immigration, who wouldn't cut entitlements, who opposes an interventionist foreign policy, who thinks our major trade deals have not benefited Americans on the ground. And he won, big time.
Though he gives them lip service because he knows his audience, it's pretty obvious he doesn't really care at all about abortion, or gay marriage, or "family values," (particularly laughable) or Christianity, or the Second Amendment. (For all his pro-gun pandering, note the unconcealed disdain in his voice when he said "Second Amendment people" the other day, the way you'd say "anti-vaxx people" or "SantaCon people.") He does not share the interventionist streak of a Bill Kristol or a Bill O'Reilly. Other than his newfound hatred of Hillary Clinton, the only really Republican thing about Trump is his desire to slash his own taxes and his hard line on immigration.
This, even more than his endless string of indefensibly racist, sexist, xenophobic, and outright ignorant statements, is why so many right- and left-leaning pundits alike felt so certain through primary season that Trump wouldn't and couldn't win the Republican nomination. It's why I wrote repeatedly that for all his many, many, many, many, many, many, many faults, Trump was still the least objectionable Republican in the race because on policy, he was hardly even a Republican.
But even if Trump's allegiance to conservative orthodoxy was somewhat lacking, his sheer belligerence, authoritarian tendencies, and disgust at political correctness ensured he wasn't about to be mistaken for a Democrat.
As I said, we don't vote for in this country, we vote against. I vote against Republicans because I am against what, through their actions, they appear to be for: starting dumb wars for profit/oil/both, cribbing our foreign policy from the Old Testament, deregulating the financial industry to the point of capsizing the global economy, restricting civil rights or reproductive choice, to name but a few.
Republicans, on the other hand, vote against the Democrats and their unions, against regulation, against gun control, against Obamacare, against political correctness, against Affirmative Action, against the safety net, for one very simple reason: Those things are for pussies, and Democrats are pussies.
Democrats like unions because they're pussies who can't negotiate. They want my tax dollars to buy their groceries and lotto tickets because they're pussies who can't hack it in the private sector. They want gun control because they're pussies afraid to get shot, or to do the shooting. They want Obamacare because they're pussies who can't afford their own MRI and chemotherapy. They don't want to use the N-word or make fun of gays or retards or Arabs because they're pussies who can't take a joke. You expect me to vote for those pussies?
No less a political authority than Clint Eastwood, last seen berating an empty chair at the 2012 Republican Convention, weighed in on the national mood last week:
[Trump] is onto something, because secretly everybody's getting tired of political correctness, kissing up. That's the kiss-ass generation we're in right now. We're really in a pussy generation. Everybody's walking on eggshells. We see people accusing people of being racist and all kinds of stuff. When I grew up, those things weren't called racist.
Trump may be an idiot, but he's no dummy: he grasped the mood of Mr. Eastwood and the millions of disgruntled voters like him completely, and made it the centerpiece of his campaign, and here we are.
Until he suggested at one of his rallies that "Second Amendment people" might be able to prevent a President Hillary from appointing Supreme Court Justices, the most troubling aspect of Trump's conduct over the last few months, and the last few weeks in particular, was his inability to let a perceived insult go unanswered, no matter the source. This reached its purest expression in his recent media feud with the grieving parents of a Muslim U.S. soldier killed in Iraq, in which Trump showed astonishing tone-deafness, a troubling lack of empathy, and zero self-control.
But to Trump and his people, this is a feature, not a bug: Trump is not a pussy. You hit him, he hits back with an insult or a threat or both, no matter who you are or how politically incorrect it may be. The details of his policies are completely secondary to his unwillingness to be pushed around or even insulted.
For more than a year, this whole campaign has been a long string of insane, indefensible comments by Trump that are predicted far and wide to finally be the end of his drunken joyride behind the wheel of a major political party. For any other politician they probably would be, no matter how contrite their public apology. Trump hasn't apologized at all for anything, and that's why his people are still with him. Pussies apologize.
All these years the eggheads who run the Republican Party and the fossils who fund it thought their voters were responding to how rigidly they adhered to the principles of trickle-down economics and free trade and social conservatism. Trump's success in the face of his indifference to two of the three suggests that all this time, they were just voting against the pussies.
And so they shall vote against Hillary Clinton, who takes Liberal pussydom to a whole new level by actually possessing one. A quarter century after she first stepped into the shit-blizzard of the political monkey cage, she continues pushing her pussified Liberal policies undeterred. She persisted through two years of relentless attacks on her marriage during her husband's 1992 campaign, followed by eight years of assorted -gates — Travelgate, Filegate, Whitewater, Furnituregate, and Vince Foster (none ever resulting in criminal charges) — not to mention the worldwide humiliation of the Monica Lewinsky matter. She followed that with eight shriek-filled years in the Senate and a particularly brutal (losing) two-year presidential campaign. From there she put in four years as Secretary of State during a particularly turbulent moment in the Middle East, and was rewarded with four years of wild accusations about Benghazi, including that she personally ordered nearby Marines to stand down rather than assist Americans caught in the siege. (What possible gain could there be for her to do that? What possible motive could she have? Don't worry about it — she's Hillary, she is the favored agent of Lucifer, and that's all you need to know.)
They accused this person of all manner of insane, outlandish, supervillain crimes for 25 years. They insulted her daughter, her mother, they tore her husband limb from limb, they finally put her on the stand in the Senate for 11 hours to pummel her with questions. Not only did she not say anything incriminating, she didn't even say anything embarrassing or even notable, patiently smiling (and occasionally sighing) through five movies' worth of hostile questioning. Not even once did she complain that she was being treated unfairly, or warn that if she loses it's because the system is rigged, or say anything wildly, obviously untrue, or get into a tit-for-tat "I know you are but what am I" shouting match, or revoked press credentials like a truly strong leader would. She just sits there and takes it and keeps on going.
And now, under the most intense media glare of a life already spent under the microscope, Clinton wants to be president, even after having watched her husband's hair turn white six weeks into the job, even knowing the long hours and the high stakes and the awful thankless choices to an extent no non-incumbent presidential candidate ever has, even knowing that the biggest and loudest and most personal attacks on her are still to come.
Wait — which candidate is the pussy again?