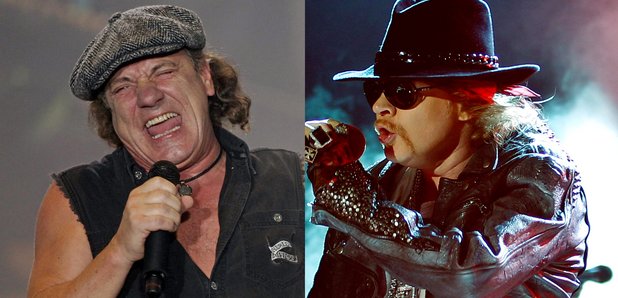 AC/DC lead screecher Brian Johnson has had a lot of bad news lately. First his doctors told him that the massive hearing loss he'd sustained over the course of his 35-year career emceeing a show that, in addition to a literal wall of Marshall stacks, included actual cannon fire at the end of every performance, was permanent and likely to get worse. They strongly recommended that he quit performing immediately, or risk losing what little hearing he has left.
AC/DC announced Johnson's retirement soon after, promising to soldier on and honor their ten scheduled summer 2016 dates with a replacement singer to be named later.
And that was news to Johnson, who says that he told the band about the doctor's advice, but also offered to do the last ten shows as a kind of farewell tour. The next day, all of Johnson's tour belongings and other personal effects in the possession of the AC/DC organization were dropped off in his driveway, and he has not spoken to Angus Young or anyone else with the band since.
I can only speculate, but I assume that Brian Johnson can be dropped from AC/DC like an old piece of luggage because he is not an original member of the band; when he replaced far superior but deceased frontman Bon Scott in 1980, they must have put him on the payroll rather than cutting him in as a full voting partner in AC/DC Enterprises.
It's a rotten thing to do to Johnson, but let's be honest: the guy is not exactly easy on the ears. He never was, but he was better in the '80s. Now he's just a screech with just the slightest hint of a key. His voice is not really a voice. Bon Scott's voice was really his voice — it was weirdly high, but that's what made it interesting. Brian Johnson's voice is more of a trick, a way of leaning into your throat to screech an octave or two higher than your normal range, sort of like a falsetto on steroids. It's an easy way to imitate a voice higher than your own — it was a great way to keep the band's sound consistent, by staying right in Bon Scott's range — but it's hell on your throat and vocal cords. Do it for two hours on Friday night and you probably won't be able to speak more than a croak on Saturday. Multiply that by 200 shows a year for 35 years and you're left with the sound Johnson makes now, which is like the noise a giant ostrich would make if it was trapped under something heavy.