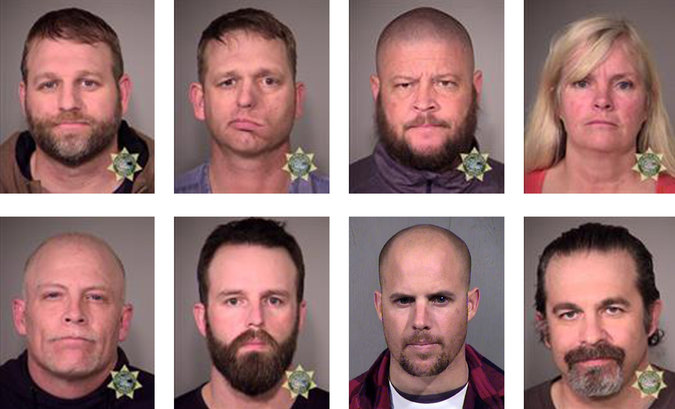 So the guys up in Oregon — you know, the guys holed up in the government building with all the guns and dildos? After a three week occupation, they finally got what they wanted: a shootout with the cops and the FBI. One of their guys is dead and another is wounded, and Ammon Bundy, the leader of the protest, or occupation, or whatever you want to call it is in custody with five of his comrades. Not comrades, that's suggests communists, which these dudes emphatically are NOT. Brothers in arms, let's go with that. Anyway, they're in jail.
A lot of people are saying that this protest was pointless, that it accomplished nothing, that its stated goal — getting the federal government to surrender all public lands back to "the people," whatever that means — was wildly unrealistic and never remotely achievable, and certainly not by occupying a building in the middle of nowhere.
They did succeed, of course, in stirring up a lot of weird, unfocused negative sentiment against the government in comments sections around the Internet, but fell short of their real goal: to provoke the government into provoking an anti-government uprising.
For a day or two, only the broadest strokes of the story were known: after a traffic stop of the vehicle Bundy was riding in — you get to take breaks from occupying a building? — brought Bundy and a few of his people into the custody of the FBI, LaVoy Finicum, one of Bundy's lieutenants driving a second vehicle, was shot and killed. The Twitter account of the Bundy ranch was quick to comment:
The resolve for principled liberty must go on. It appears that America was fired upon by our government. One of… https://t.co/9TJnzRtwpZ

— Bundy Ranch (@BundyRanch) January 27, 2016
Though eyewitnesses, including one of the other people in the Bundy caravan, leaked word to the press that Finicum had tried to evade a roadblock and was shot while charging the cops, those inclined toward Liberty called that another lie and insisted that Finicum was shot with his hands in the air.
Supporters of the Bundy cause still holed up at the refuge seemed to believe that an attack by the government was imminent, and called for ex-military members to come and "fight for your country… if they stop you from getting here, KILL THEM!"