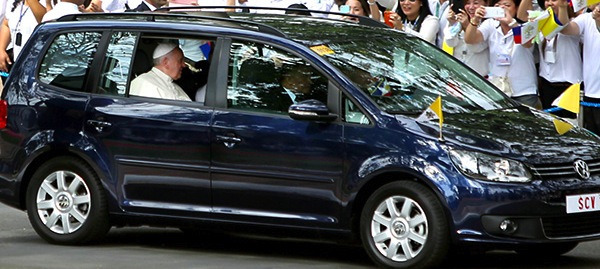 I'm no historian, but when I was in school there are two facts I learned about the 1960 presidential election that always stayed with me:
John F. Kennedy won the election largely on the strength of his performance in the televised debate. Although people who listened to the debate on the radio thought his opponent, Richard Nixon, got the better of him, TV watchers were hypnotized by Kennedy's steady, handsome gaze and repulsed by Nixon's nervous, sweaty, shifty, beady, slightly creepy, overcaffeinated, underrested, shockingly visible difficulty hiding an unslakeable thirst for power and lust to punish his enemies, and, uh… what was I talking about again?
Oh yeah: Despite his youth, vigor, good looks, war record, and clearly articulated vision for the country, there was one thing about Kennedy that made people uneasy: he was Catholic. Critics worried that Kennedy would take his orders from the Vatican, rather than from the Constitution, that the Pope would have his own Batphone in the Oval Office, which he would use to order Kennedy to… what? I don't know what kind of treason people thought Kennedy might commit in the service of the pontiff, but it was a big deal at the time.
What a difference a half century makes. Judging by Pope Francis' rapturous reception in the U.S. over the last couple of days, we aren't just okay with the pope having an influence in Washington; we're holding a televised competition to see who can get down on their bellies and lick his boots the cleanest.