I got into it with an old friend from high school on Facebook the other day about the Confederate flag. It's funny, because I have not seen this person in about twenty years, and I have nothing but good memories of him. We weren't best buddies, we never slept over or anything, but we ran in the same circles and I always liked him. He was a fun, funny guy who I was always happy to see when we showed up at the same parties, and there were a lot of those.
Other than being Facebook friends, we've had no contact at all in a million years, but through Facebook I was aware that he is married with kids in North Carolina and just a bit to my right politically. That's fine by me — my whole family is to my right politically, and we don't yell at Christmas dinner. To me a difference of opinion between friends is just that, and I remember this person as a friend, so I have no interest in fighting with him about matters I'll never change his mind about, nor he mine.
I was on vacation in Grenada with my family when the shooting in Charleston happened. I was slow to read about the story because I was on vacation, consciously trying not to look at my phone every five minutes. We found out about it from a taxi driver, who was deeply upset about it, and over the next few days everywhere we went people asked us about it because, in a 99% black country, we stood out as obviously American.
These people were far more upset about it than, from what I could tell on social media, the average person in America was. When the national discussion turned to the Confederate flag, my old friend posted the following: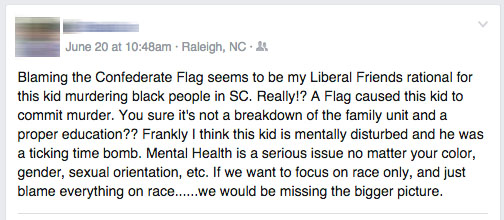 I didn't reply to this post right away, but it stayed with me for a couple of days, on the plane back to Brooklyn, into the next night. He seemed to be angrily arguing against a straw man position. No one is blaming the flag, they're suggesting that we stop poking African Americans in the eye with it. And by the way, while I'm sure that not all people who wave that flag are racist, let's not pretend that when racists want a flag, it's overwhelmingly the one they turn to.