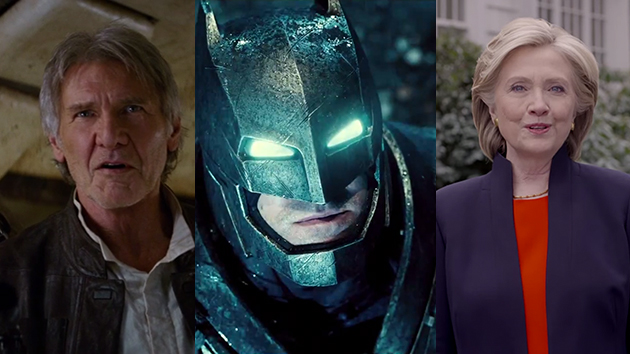 It has been a very big week for trailers, as two-minute peeks inside the biggest productions of the next year landed on YouTube over the last ten days: MAD MAX: FURY ROAD. JURASSIC WORLD. TERMINATOR: GENISYS. TOMORROWLAND. There is a lot riding on each one of these trailers, as they are all Summer Tentpoles, expected to prop up their backers' bottom line for the next calendar year.
But they were all just appetizers for the three trailers that set the entire Internet ablaze:
STAR WARS: THE FORCE AWAKENS
BATMAN v SUPERMAN: DAWN OF JUSTICE
HILLARY CLINTON: GETTING STARTED
These three productions have three things in common: they all have huge budgets, they are all sequels, and they are all expected to bring in a billion dollars.  So which one made the biggest splash?