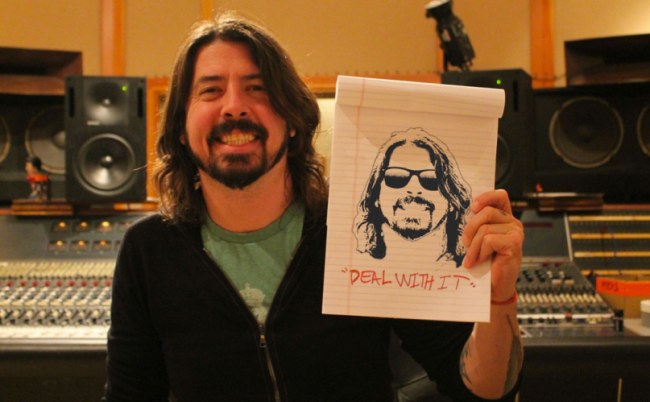 I am not what you'd call a fan of the Foo Fighters. (Are they THE Foo Fighters or just Foo Fighters? Are they fighting against Foo or under its banner? What is this Foo, anyway? If I was a fan I guess I wouldn't have to ask these kind of questions.) I don't actively dislike them, I don't find them annoying, I've just never been compelled by the sound of their music to seek out more of their music. I like that one song about if everything could ever be this good forever, but that's about as deep as my knowledge of their almost 20-year career goes.
Even so, I have really been enjoying their show, FOO FIGHTERS: SONIC HIGHWAYS, which has been airing Friday nights on HBO, and which (judging by my social media feeds) is inspiring a rather acidic backlash against its creator, Foo Fighters majordomo Dave Grohl.
Grohl's filmmaking career began a couple years ago when he directed the documentary SOUND CITY, about the Los Angeles recording studio where his old band, Nirvana, recorded the "Nevermind" album, Fleetwood Mac recorded its first album after absorbing Stevie Nicks and Lindsey Buckingham (the one with "Rhiannon" and "Landslide"), and Tom Petty and the Heartbreakers recorded "Damn The Torpedoes." The movie culminates in Grohl buying the iconic, one-of-a-kind Neve mixing desk from the studio as it permanently closes its doors, installing it in his house, and recording some new tracks with the Foo Fighters and some of the people featured in the film — Stevie Nicks, John Fogerty, Rick Springfield. The movie was very well received, particularly by music nerds like me.
Thus emboldened, Grohl created SONIC HIGHWAYS on the premise that (I'm paraphrasing) all music is influenced by the place where it's recorded. One way or another, Grohl argues in voiceover, the history and the vibes of a place seep into the music that's created there. So we watch each week as Grohl and the Foo Fighters set out to record each song for a new album (the just-released "Sonic Highways") in a different city, and give a little music history lesson about that city along the way, complete with interviews with each city's rock luminaries, with each episode ending with the Foo Fighters performing the song they recorded there.
Why is everyone so pissed off about that?
Despite my disinterest in most of his musical output since Nirvana ended — the Foo Fighters always sound kind of indistinct and samey to me, though I am always interested when he gets back behind the drums for Queens of the Stone Age or whoever — it's always seemed pretty clear that Dave Grohl is a nice, grounded, level-headed dude, the guy we unfamous musicians imagine we would be if we somehow found ourselves crazy rich and world famous. Whenever he guest stars with other bands as a drummer, he instantly elevates the material both in its profile and quality, because he is such a great fucking drummer. I regret not getting myself into the Nirvana reunion gig they played in Brooklyn after the Rock and Roll Hall of Fame induction — I would pay good money to watch Grohl and Krist Novoselic play those songs as a duo. And from here it looks like he is taking advantage of his rich and famousness in the best possible way, by rubbing elbows with his (and our) heroes. Before Robert Plant put the rumors to rest once and for all last week, Grohl was rumored to be up for the Led Zeppelin reunion gig.
Between this project and SOUND CITY, he's kind of taken on the role of Goodwill Ambassador for Rock and Roll, kind of like the white ?uestlove. And while he was not exactly elected to that position, I don't know who would be better suited to it. He's a chill dude, clearly friendly with everyone, and shows genuine enthusiasm to meet and talk and especially play with his elders.
In the Chicago episode he interviews blues legend Buddy Guy, mercurial producer Steve Albini, who recorded Nirvana's third album, "In Utero," and gets Rick Nielsen from Cheap Trick to play on the track they record at Albini's studio.
In the Washington, D.C. episode (my favorite so far), he touches on the Go-Go movement (Chuck Brown, Trouble Funk, etc.) and then goes to Inner Ear studios, where pretty much all '80s DC hardcore (Bad Brains, Minor Threat, Fugazi) was recorded to interview Ian MacKaye and record another song.
In Nashville he talks to Dolly Parton, Emmylou Harris, and Willie Nelson. In Austin, the Foo Fighters record at the old Austin City Limits soundstage and interview Billy Gibbons, Roky Erickson, and Jimmie Vaughan, who talks at length about his late brother, Stevie Ray.
In Los Angeles, Joe Walsh lays down a solo for the record, Germs/Nirvana/Foo Fighters guitarist Pat Smear gives a history of the LA punk scene, and LA radio icon Rodney Bingenheimer does an interview. In short, this show is high-grade, pharmaceutical crack to music nerds like me. But since it's also promoting the new Foo Fighters album, apparently it's proof that Dave Grohl is an out-of-control ego monster and grounds for cancelling your HBO account.
Admittedly, I don't much care for the Foo Fighters songs that have closed each episode. I find them amusing more than anything, because they prove the exact opposite of Grohl's thesis: despite being recorded in different studios, in different cities, while marinating in those cities' histories and aided by their most accomplished natives, each and every one of these songs sounds exactly like all the others. They sound like slick, competent, well-recorded, kind of generic corporate rock. They sound like the Foo Fighters, which does not seem to be my cup of tea, but that's fine — it doesn't have to be. Everything doesn't have to be tailor made for me. I never paid Dave Grohl any money so I'm not asking for any back.
If, like me, you don't like the Foo Fighters songs at the end of each episode, you could just do what I do: turn it off when the song starts. Your TV came with a remote, right? Or if you just don't like the show, you could not watch it.
In general, I don't understand why people get exercised about the existence of art that they don't themselves much care for, or by extension, get angry at the artists for creating it, or for continuing to exist on this planet after they've created it. You don't like the Foo Fighters? Do what I do: don't listen to them.
There's been a similar backlash against country-to-pop butterfly Taylor Swift lately, particularly here in New York, because Ms. Swift just bought an apartment here and was recently named New York City's Ambassador for Tourism. New Yorkers, many of them in my social feeds, are incensed that this young woman, who has risen to the top of her field despite the fact that they personally haven't enjoyed any of her #1 albums or #1 singles, moved here, wrote a song about it, and was just handed the incredibly important and influential post of Ambassador for Tourism, displacing the far more qualified and authentic… um… hold on… wait, who was the previous Ambassador for Tourism?
I don't like Taylor Swift's music either. At least, I don't think I do. "We Are Never Ever Getting Back Together" is the only song of hers I can name, because I heard it on the radio in a store while Christmas shopping last year and the DJ identified it when it ended. It sounded to me like overcompressed, over-repetitive, lyrically trite, annoying crap — in other words, it sounded like 21st-century pop music. But it's not intended for me. I'm not supposed to like it, or even pay attention to it. Somebody out there likes it, that's why it's succeeding, what's it to ya? Who gives a shit if Taylor Swift is the Ambassador for Tourism? Is she going to be waiting at Port Authority greeting weary travelers with hot towels and directions to the Times Square Applebee's? Obviously not. It will have absolutely zero impact on the lives of anyone in this city, unless your eye happens to land on one of the "Welcome To New York" signs on the side of the bus stop, and that is a hardship from which I am sure you will recover.
So there's something out there you don't like. Who gives a shit? That's how it's supposed to be. If everybody liked the same thing, nobody could get tickets.
As for me, I can't wait for the last episode of SONIC HIGHWAYS, when (spoiler alert) the Foo Fighters go to New York and make no mention at all of CBGB, Max's Kansas City, The Ramones, Talking Heads, Velvet Underground, Blondie, Run-DMC, or Biggie Smalls. Instead Dave Grohl and Taylor Swift just walk hand in hand along the High Line eating Magnolia cupcakes and collaborating on flirty text messages to Prince Harry.