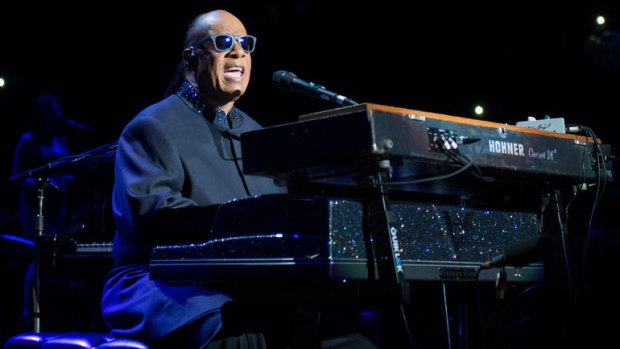 This thing has been going on for the last several years, where a band does a concert performing one of their albums in its entirety. It's a great idea and I am fully in favor of it; I saw Sonic Youth play all of "Daydream Nation" a few years back, and I saw the Melvins do "Houdini," and they were both great shows.
But it was only a matter of time until someone took this idea and delivered something truly transcendent, and that's what happened last week at Madison Square Garden when Stevie Wonder kicked off his "Songs In The Key Of Life" tour.
Even logging onto Ticketmaster at the exact moment tickets went on sale, the literal top row of the arena was the best I could do, for $99.50 a seat — $117 with service fees. This felt a little crazy. I had to confirm with the wife that we really wanted to spend this kind of money to just barely even be in the building, but that was a pretty easy decision. We saw him from the top row at MSG in 2007 and it was terrific — Stevie was in great voice, he had two great guest stars (Tony Bennett for a torch-song version of "For Once In My Life," Prince on "Superstition"), the sound in the arena was surprisingly good, and he didn't play anything he recorded after 1980. It was a great show all around, more than good enough to justify the price of these new tickets.
Not everyone saw it that way, though: a friend on the West Coast posted the tour announcement on his Facebook page and, noting the ticket price ($175 for floor seats), declared it a "Pass," and a thread soon began poo-poohing the whole enterprise:
"I heard he has three keyboard players on stage with him (meaning he's not the musician he used to be)."
"Good call. I saw Jordan when he was on the Wizards and felt dirty after."
"Maybe if it was in a smaller place."
"I've seen him and once was enough."
I just want to take the opportunity to tell those skeptics that YOU COULDN'T POSSIBLY BE MORE WRONG.
This was one of the best arena shows I have ever seen. Actually make that one of the best shows I've seen, full stop. With the benefit of hindsight, I would have gladly paid twice as much for even worse seats (if worse seats had been available), much less $175 for floor seats. Stevie sounded amazing, he played his ass off, and the band was unbelievable.
In the movie business, there's a saying producers have when assuring investors that their money is going to be well spent: "You're going to see it on the screen." Meaning, we're not going to spend your money on bigger trailers for the actors and caviar at lunchtime; we're going to crash a real helicopter into a real fighter jet over a real, active volcano and we're going to shoot the whole thing with 19 IMAX cameras. You're going to see that money on the screen.
I saw every goddamn dime of that $99.50 on the stage:
Two guitarists
Two drummers
Two percussionists
Six-piece horn section (three saxophones, two trumpets, one trombone)
Three keyboardists
Ten-piece string section
Six backup singers (one male, one white, one pregnant [by Stevie])
One bassist — Nathan Watts, who played on the album in 1976
"Songs In The Key Of Life" may not contain all of Stevie Wonder's best songs, but it is definitely his best, most cohesive album, even as it's his most eclectic. The songs manage to all be very distinct from one another, almost like a mixtape — remember when musicians had more than one note? — but still feel of a piece. We all grew up with this album, we've all heard it a thousand times, but it somehow always sounds fresh — at least it does to me.
Stevie played a few songs from this album when we saw him in 2007, and they sounded fine, but the difference was that he didn't have a horn section, or a string section — he covered all those parts with synthesizers. For this show no expense was spared. Stevie Wonder singing "Sir Duke" live is great no matter what, but when it comes with a real live six-piece horn section it goes to another level entirely.
The show started promptly at 8:15pm, with Stevie taking the stage and making some introductory remarks while people (us included) were still finding their seats, so I missed what he said. We arrived in the top row just as the band kicked into "Love's In Need Of Love Today," the first song on the album.
india.arie joined him to sing harmony on "Have a Talk With God," and would return throughout the set. But it was on the next song, "Village Ghetto Land," that the beauty of the grand orchestration onstage came into focus. A lot (all?) of the string sounds on the album were played by Stevie himself on a synthesizer, during his honeymoon with the ARP and other keyboards that mimic the sounds of other instruments, so to see those parts arranged for a true string section was breathtaking. Stevie blew some lyrics on this song, but he immediately acknowledged it, the crowd cheered, and he soon found his place again.
Next up was "Contusion," the guitar-heavy instrumental raveup that is generally my least favorite track on the album. But it was awesome live, all weird, angular changes and off-kilter time signatures, and the band pulled it off perfectly.
In general, the sound quality was shockingly good. One (possibly the only) good thing about James Dolan's tenure as owner of the New York Knicks and the building they play in is that, since he is the lead singer of an appallingly terrible white-blues band (JD and the Straight Shot — he once strongarmed the Eagles into letting him open for them because it's his venue), he renovated the place for better acoustics — I guess so people can hear every note of his off-key caterwauling.
Anyway, it sounded great in there. The double shot of "Sir Duke" and "I Wish," the two biggest hits on the album, got the crowd up on its feet, which was no small achievement because this was by far the oldest crowd I have ever seen at an arena show. Nothing wrong with that at all, obviously they were the same age as the headliner, but there was not quite as much dancing as one might expect at a show so packed with danceable beats. (At one point the guy in front of us was audibly snoring, but that wasn't until later in the set.)
"Knocks Me Off My Feet," with the big "I don't want to bore you with it" chorus (so many of these song titles seem unfamiliar until you get to the huge choruses), showed that he hasn't lost a single step vocally. Then, in the only departure from the album came a long instrumental jam, and the already huge backup singer section expanded to 20 for "Pastime Paradise," another great showcase for the string section.
The most emotional part of the show came on "Summer Soft." Tears streaming down his cheeks, Stevie had to stop singing for a good minute or two, so overcome by singing the chorus, and the phrase "And she's gone" over and over; he seemed to be thinking of his late mother, who died in 2006, because as he struggled to take the song back from the backup singer covering for him, he sang "My moms is gone." It was a moving moment, and it seemed like that arena got pretty dusty for a couple of minutes.
The only true problem with the show came on one of my favorite songs on the album, "Ordinary Pain," on the funkified second half of the song with the female singer testifying "You're just a narcissistic fool," etc. As arranged for the stage, this part was divided among three singers, each taking turns with a couplet, all of whom appeared to be giving it their all. Unfortunately their voices didn't find their way into the mix until the song was almost over.
"Songs In The Key Of Life" was released as a two-LP set, with a third four-song EP included as a bonus; after "Ordinary Pain," which ends Side Two of the album, he jiggled the running order slightly, playing the first side of the EP, "Saturn" and "Ebony Eyes," the former with india.arie returning to sing co-lead, the latter with Stevie on a beat-up old upright piano. Then there was a 15-minute intermission.
Stevie's 2-year-old daughter was brought out for "Isn't She Lovely," and it was at this point that it became clear that the pregnant backup singer was in fact pregnant by Stevie, as well as mother to the little girl.
The one and only tune that was kind of a bummer for me was "Joy Inside My Tears," just because it was such a drop in energy and kind of somber sonically, but even here Stevie gave an impassioned performance, pounding his fist on the piano as he sang. But the energy quickly rebounded with "Black Man," which piped in the original children's voices reciting the history lessons from the album.
Side Three accomplished, Stevie here turned to the other side of the EP, "All Day Sucker" and "Easy Goin' Evening (My Mama's Call)," the latter a showcase for his harmonica playing, which like every other part of the show could easily stand side by side with anything from his prime.
The final leg began with "Ngiculela — Es Una Historia (I Am Singing)," which if it weren't already clear that this guy is every bit the singer he always was, drove the point home over and over again, as the key kept going up and up and up and his singing only got more and more acrobatic — it was truly breathtaking. If that weren't enough, this song features some prominent nylon-string guitar, and not content to let his guitarists take all the solos, Stevie played some kind of weird electronic instrument I've never seen before — it looked like a plank with a grid of MIDI triggers on it — to take a "guitar" solo of his own. With my eyes closed I would have never known it wasn't a guitar, he shredded on it, it was a highlight of the show.
By the way, the idea that having additional keyboardists on the stage suggests that Stevie Wonder isn't Stevie Wonder anymore is laughable. There are three extra keyboards because Stevie put 19 layers of keyboards on every song and he can only play 15 or 16 of them at once (he's only got two hands).
For "If It's Magic," the original harp track recorded for the album was piped in while Stevie stood and sang unaccompanied. And the last two songs on the album, "As" and "Another Star" moved and grooved even harder than they did on the album, bringing the crowd to its feet once again and getting all 18,000 people to sing along on the "na na na" outro, and then making the band stop on a dime, in a weird, non-intuitive spot, just to prove he could.
Then for an encore he played "Superstition."
So yeah, I sure wish I had that $99.50 back. It was way too much to pay for a near-perfect, genuinely uplifting experience. I can think of so many better things I could have done with it, like buy one dinner for my wife and me (no wine, but that's okay, we're retired), or drink in a bar for one night, or ⅔ of a lift ticket, or most of a parking ticket. Fool me once…