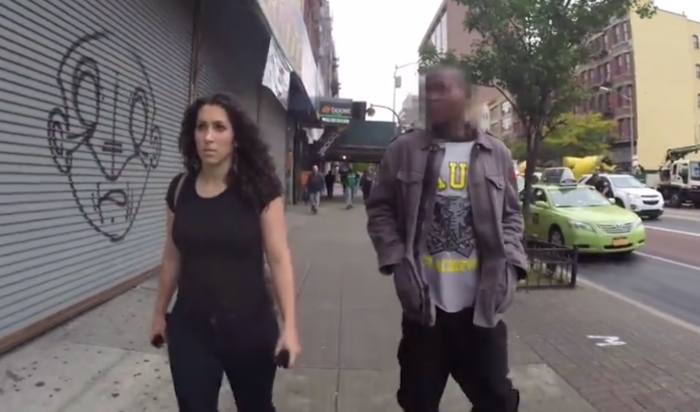 I don't think anything has ever appeared in my Facebook feed as many times in such a short period as the video of the woman walking the streets of Manhattan, stonefaced and in plain clothes, while a hidden camera records all the dudes she passes who call out to her.
What's been particularly odd to me, as with so many other Internet controversies, is what has unfolded in the various comment sections where this video is being discussed: so many guys seem to feel a need to defend their Constitutional right to start unprompted conversations with female passersby on the street, to insist that their intentions are noble and their hearts are pure, that all they want is to "brighten someone's day" and that they are "just men being men" and that the "feminazis" spreading this "deceptively edited" video apparently want to make "being friendly illegal" because most of the interactions "aren't even that bad" and "not all men do this."
Not only was this video eye-opening in terms of the extent to which women have to deal with this — I knew it happened but had never considered how frequently — I had no idea how many guys out there felt so strongly about preserving their right to continue doing it. Maybe I'm just a coward, but when I was single way back in the 20th century, I never once, not ever, approached a female on the street, much less yelled something out at someone walking by, because it seems so face-slappingly obvious that it would never, ever get me anywhere. Does it ever work for anyone, ever?
I am not trying to pretend that I am above such base impulses. I live in New York City, the world capital of beautiful women walking around on the street. It's one of the greatest things about living here. I've been happily and faithfully married for 14 years, but I still have eyes, and I can hardly walk two blocks without noticing someone whom I'd enjoy the opportunity to notice longer. I am a neanderthal scumbag between my ears just like everyone else.