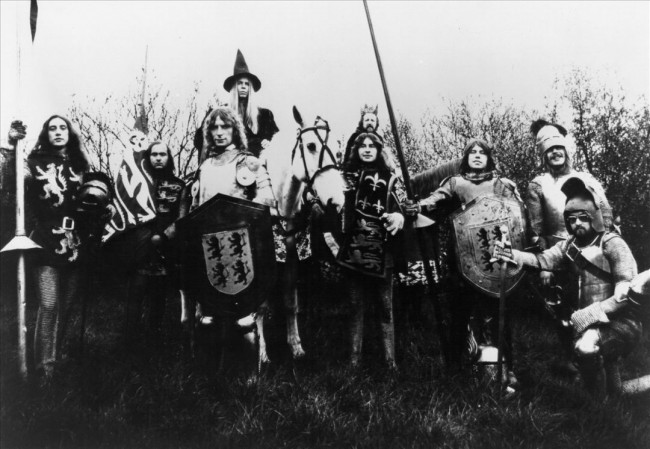 If you had a Rock Time Machine and you could go back in time to any show, what would it be? At one time I would have said the Monterey Pop Festival, the night Jimi Hendrix unfurled his massive talent for a credulous, acid-drenched crowd of rock royalty. At another time I'd have chosen Hendrix's Band of Gypsys shows on New Year's Eve 1969/70, memorialized on the Band of Gypsys album. Or maybe Stevie Wonder opening for the Stones on the 1972 tour. Or maybe XTC at Hammersmith Palace in 1980. Or Van Halen at the US Festival in 1982. Or the Replacements at 7th St. Entry in 1984. The list goes on and on.
But that list is a thing of the past, because from the moment I first learned about it there is only one show I would want to go back in time for: a show featuring an artist I'm not very familiar with and even less fond of.
Rick Wakeman rose to fame as the keyboardist in Yes, the early-'70s math rock unit that everyone's heard of but no one has listened to. Despite their success, Wakeman felt that the albums Yes had released during his tenure — Fragile, Close to the Edge, and Tales From Topgraphic Oceans — were getting increasingly pretentious, mired in weird lyrics, undercooked themes, and long, indulgent instrumental passages.
So he quit the band in 1973 and as a solo artist released a string of increasingly pretentious albums mired in weird lyrics, undercooked themes, and indulgent instrumental passages: The Six Wives of Henry VIII (1973); Journey to the Center of the Earth (1974); and The Myths and Legends of King Arthur and the Knights of the Round Table (1975).
At first glance this might just seem an ill-considered concept album that you wouldn't want to sit through at home, much less in concert, and you'd be right, except for the addition of two little words: The Myths and Legends of King Arthur and the Knights of the Round Table… ON ICE.
Yes: Wakeman toured arenas in 1975, performing the album on stage surrounded by 17 synthesizers, bathed in dry ice, wearing a shiny cape and string-straight, waist-length hair, tickling the ivories like he was trying to get state secrets out of them, while figure skaters, dressed in Elizabethan costume, gave an interpretive ice dance between the band and the audience… ON ICE.
This tour didn't even fulfill its six-date itinerary — it capsized almost immediately under the weight of its own ambition and went down as one of the biggest moneylosers in rock history. Not even U2 at their most ZooTV indulgent could rival a production that included a 45-piece orchestra, 48 singers, 50 ice skaters, a 7-piece rock band, and whatever Wakeman's budget was for capes. (He loved his capes.)
On some level, we owe Wakeman a debt of gratitude, because it's ridiculous, faux-intellectual, bloodless showoff shit like this that made the Sex Pistols and the New York Dolls happen — which brought rock back down to the level of normal people, rather than virtuosos jacking themselves off… ON ICE.
For his part, Wakeman at least seems to have a sense of humor about the whole thing, writing about the fiasco in the Guardian in 2008:
It was fun, but it wasn't without its problems. One night, as soon as I walked on, my cape got caught on one of the elevated keyboards, and I was left hanging in mid-air. I had to go off, dazed, trying to negotiate the ice. Then there was the dry ice, which was hard to control on that scale. On the first night, it was hovering nicely at knight level, then we noticed it rising. No one was able to turn the machines off, and by the end of 'Lady of the Lake', the dancing Guinevere had disappeared completely. So had the lower tier of the orchestra and the first tier of the auditorium. It was like looking out of an aeroplane window.
Sure, it would be great to go back to 1967 and see Hendrix burn his guitar in person. But where else are you going to see a couple of figure skaters have a sword fight while "on horseback" while a dude plays a three-necked bass? Could anything be more amusing than that? I would have to bring a change of underwear to the show.
Fortunately for appreciators of culture like myself, a time machine might not even be necessary, as Wakeman was quoted earlier this year in Q Magazine as saying, "Nowadays you can do so much more with ice. I have a dream of doing it again with a huge production at the (London) O2."
We can only hope… ON ICE.