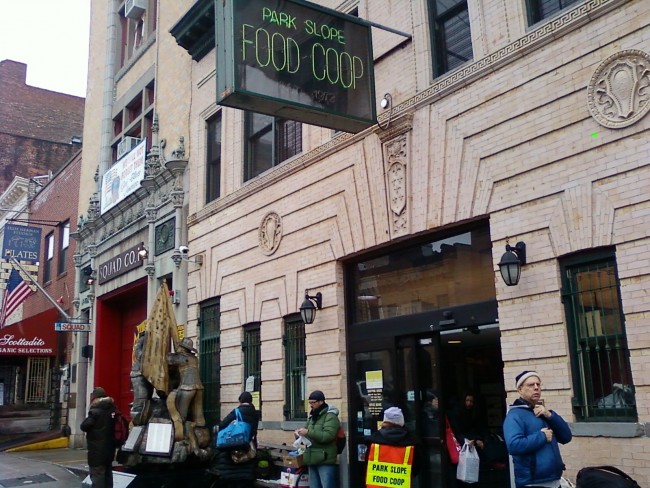 I am beginning to think it may be time to end one of my longest relationships. It's been eleven years of joy and sorrow and laughter and tears and amazing produce, but I'm finally ready to bail on the Park Slope Food Coop.
When my wife and I first arrived in Brooklyn in 2002, we moved into a spare room in our friend's huge 1-family brownstone on the east side of Prospect Park — the side opposite from the fully gentrified, Disneyland Main Street U.S.A. known as Park Slope. Following the lead of our friends/landlords (friendlords?), who'd joined the Coop (not Co-op, even though spelling it the other way makes you think coop rhymes with poop) when they lived in Park Slope and remained devoted members even from the wrong side of the park. When we moved in, they didn't tell us we HAD to join the Coop, but it was strongly suggested that living in a Coop household and eating Coop food without contributing to the Coop as working members would drag all of us into a moral gray area that not all of us would be comfortable with. Our friendlords had never led us astray before, the produce we'd been eating from their kitchen was indeed delightful, and we were eager to be good roommates because they were giving us a great deal to live there, so we agreed to join up.
We took the tour and sat for the orientation lecture, where we got the hard sell: The Coop offers amazing, mindblowingly fresh fruits and vegetables, as well as an assortment of free-range, grass-fed, hormone-free, yoga-practicing meats and a variety of off-brand, all-organic dry goods, at prices an average of 30% cheaper than the supermarket. How are they able to accomplish this? That right there is the greatest trick the devil ever pulled — if the devil was committed to social justice and canvas pants.