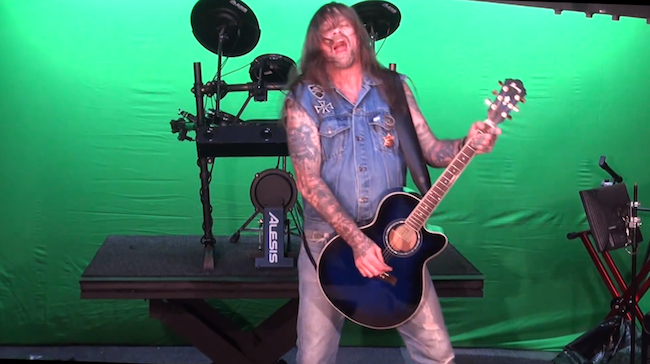 What is the greatest documentary ever made? Ken Burns' THE CIVIL WAR? Alex Gibney's ENRON: THE SMARTEST GUYS IN THE ROOM? CRUMB? CAPTURING THE FRIEDMANS? HOOP DREAMS? THE THIN BLUE LINE?
Pencils down. Those are all great, important films, but the greatest documentary film ever made is, without question, Penelope Spheeris' THE DECLINE OF WESTERN CIVILIZATION PART II: THE METAL YEARS.
Shot in Los Angeles in the late '80s, the film features interviews with the rich, successful, elders of heavy metal at the time — Ozzy Osbourne, Lemmy, Alice Cooper, Steven Tyler, Joe Perry, Paul Stanley, Gene Simmons — talking about the freedom of metal and how it saved rock and roll from its own excesses, and everyone is in embarrassing period clothing (except for Lemmy) and everyone seems totally addled by either drugs (Ozzy) or money (Gene Simmons) or pussy (Paul Stanley) or some combination of all three. It's all more amusing than insightful, but it is worth watching.
But what really makes this film amazing is all the unfamous bands who are also interviewed, and who contributed performances to the movie, insisting (against all the available evidence) that they're definitely going to make it, they're definitely going to be rich in a year or two, there is no backup plan. Their atrocious performances, along with the torrent of casual misogyny and drug and alcohol abuse, make clear — particularly now, 25 years later, when Odin and London and Seduce and Wet Cherry have conclusively failed to make any kind of impression on the world at large — that these guys are delusional and going nowhere, except back to their parents' garages by way of the free clinic and probably a rehab or two.
Anyone who has seen this movie — and if you haven't, I would encourage you to try and find it in a less crappy-looking format, though it isn't on any of the streaming services and appears to be out of print — remembers the Chris Holmes scene, simultaneously amusing in its ridiculousness and heartbreaking in its pathos.