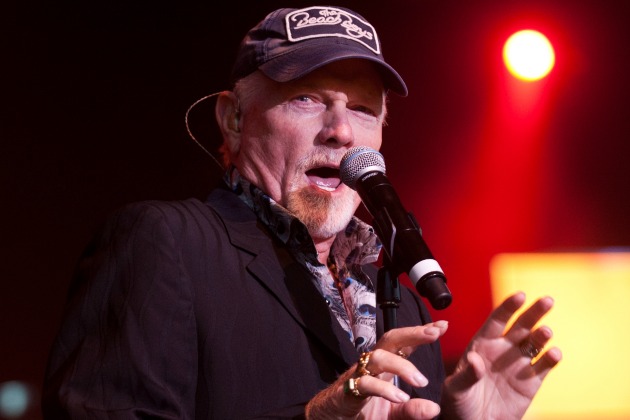 We can probably start here: Everyone knows Mike Love is a huge asshole, right? 
In case you need a recap: Mike Love is the second lead singer and, even more unfortunately, sole rights licensee of The Beach Boys. He's in the news this week because he's reportedly firing both of the other surviving original members of the band — Al Jardine and Brian Wilson — effective after the last show of their massive 50th anniversary tour.
It seems crazy. Who would fire Brian Wilson from the Beach Boys? But Mike Love has a long history of doing crazy asshole things, and this is just the latest. It's not even the first time he's fired Brian from the Beach Boys (that would be 1982). Some of the highlights from his Crazy Asshole CV:
His constant badgering of Brian Wilson, the band's bassist, first lead singer, primary songwriter, visionary genius, resident virtuoso, and acid casualty drove Wilson literally crazy right around 1968. Wilson had composed and performed almost every note of the band's critically adored, times-changing 1966 album Pet Sounds in solitude while the rest of the Beach Boys played concerts on the road; Brian worked insane hours to create an even grander follow-up, a double album called Smile, and the first fruit of those sessions, "Good Vibrations," promised another huge sonic leap forward.
But when Mike Love came in to add his nasal baritone to the new songs he made a huge deal about the weird lyrics and browbeat Wilson — who by this time had already begun to invent Eccentric Rock Stardom as a thing by turning his thousand-square-foot living room into a sandbox with his grand piano at the center — until Wilson had a nervous breakdown, shelved the entire album, and spent the next 20 years in his bedroom a shell of his former self, never coming anywhere near the twin highs of Pet Sounds and "Good Vibrations."
(Tangent: I recently acquired a 45 of "Good Vibrations" and it sounds amazing. 45s sound amazing, especially the well-recorded ones. If you see one, buy it, unless you hate music that sounds amazing.)
Love's concern was apparently that the band — the biggest-selling American band for several years to that point — would sell fewer records if it strayed from its cars/girls/fun-in-the-sun lyrical formula. The artistic strides Brian was making, and the unanimous admiration of their peers for Pet Sounds, appear not to have persuaded Love in the least, and the world was robbed of an enormous potential legacy. Imagine if Brian Wilson had been a functional human being at the same time that Stevie Wonder took control of his own work in the '70s? Wilson was always competitive, and saw Pet Sounds as a direct response to the Beatles' Rubber Soul. What would his response to Innervisions have been like? Songs In The Key Of Life? What if they got in a room together and stared each other down over matching ARP keyboards? It boggles the mind. We can only imagine, and for that we can blame Mike Love.