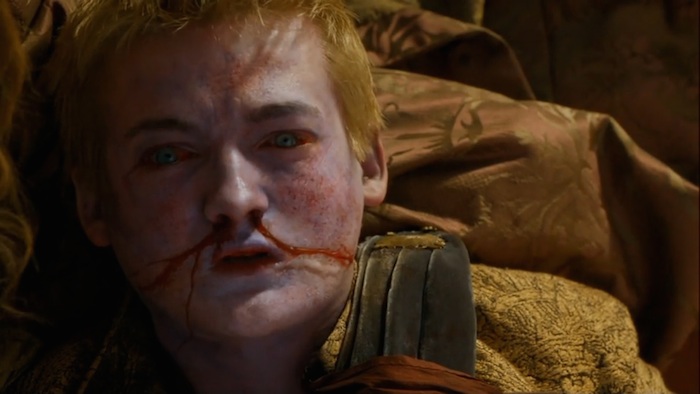 Nobody seems to want to say anything, but I think we're all slowly coming to recognize an uncomfortable truth, and I think we need to acknowledge it. It's painful, and I know no one wants to be the one to say it, so I'll start:
I think maybe Game of Thrones is starting to suck.
The very idea that this could happen seems counterintuitive. Impossible, even. Whereas the normal course of entropy for a popular TV show is that it starts to lose steam around the second or third season, as the writers start to scrape for ideas and the actors start to turn the characters into caricatures, everyone watching Game of Thrones is fully expecting this show to keep getting better and better every season. No one has ever even considered the possibility that this show is headed anywhere but up.
Partly this is because of the construction of the show's plot: Season 1 ended with the birth of the dragons, so the logical thing to expect is that those dragons are going to get bigger and bigger, and kick more and more ass as they do so.
Partly it's because of the book readers out there, who have been smugly insisting to all of us non-readers for four and a half seasons now that we ain't seen nothing yet, wait till we get to next season, oh my god you're not going to believe what happens, etcetera etcetera. For a while, those people were right: season two was better than season one, season three was better than season two, and season four was better than season three.
But now the show is running out of track, as it has just about caught up to the books; each of the first two ten-episode seasons were direct adaptations of the first two 600-page books, and seasons three, four, and five have been a mishmash of the third, and fourth books. Author George R. R. Martin has been slow to deliver the sixth book in the series, and showrunners David Benioff and D.B. Weiss seem to be holding off on getting into the fifth book because once they do that, there's nothing left, so they're kind of vamping, like a band would do when the singer accidentally splits his pants and has to leave the stage for a few minutes. Obviously the show has been changing things from the books all along: you can't make a 10-hour omelette without breaking a few hundred pages of eggs. And anticipating that the show would outrun the books, Martin has told Weiss and Benioff where he plans to take the story, but without the (supposedly) rich text of the books it's like the difference between a compass and a map.