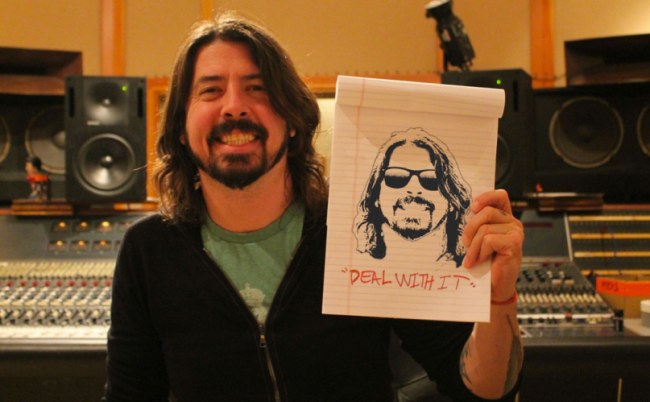 I am not what you'd call a fan of the Foo Fighters. (Are they THE Foo Fighters or just Foo Fighters? Are they fighting against Foo or under its banner? What is this Foo, anyway? If I was a fan I guess I wouldn't have to ask these kind of questions.) I don't actively dislike them, I don't find them annoying, I've just never been compelled by the sound of their music to seek out more of their music. I like that one song about if everything could ever be this good forever, but that's about as deep as my knowledge of their almost 20-year career goes.
Even so, I have really been enjoying their show, FOO FIGHTERS: SONIC HIGHWAYS, which has been airing Friday nights on HBO, and which (judging by my social media feeds) is inspiring a rather acidic backlash against its creator, Foo Fighters majordomo Dave Grohl.
Grohl's filmmaking career began a couple years ago when he directed the documentary SOUND CITY, about the Los Angeles recording studio where his old band, Nirvana, recorded the "Nevermind" album, Fleetwood Mac recorded its first album after absorbing Stevie Nicks and Lindsey Buckingham (the one with "Rhiannon" and "Landslide"), and Tom Petty and the Heartbreakers recorded "Damn The Torpedoes." The movie culminates in Grohl buying the iconic, one-of-a-kind Neve mixing desk from the studio as it permanently closes its doors, installing it in his house, and recording some new tracks with the Foo Fighters and some of the people featured in the film — Stevie Nicks, John Fogerty, Rick Springfield. The movie was very well received, particularly by music nerds like me.
Thus emboldened, Grohl created SONIC HIGHWAYS on the premise that (I'm paraphrasing) all music is influenced by the place where it's recorded. One way or another, Grohl argues in voiceover, the history and the vibes of a place seep into the music that's created there. So we watch each week as Grohl and the Foo Fighters set out to record each song for a new album (the just-released "Sonic Highways") in a different city, and give a little music history lesson about that city along the way, complete with interviews with each city's rock luminaries, with each episode ending with the Foo Fighters performing the song they recorded there.
Why is everyone so pissed off about that? Read More