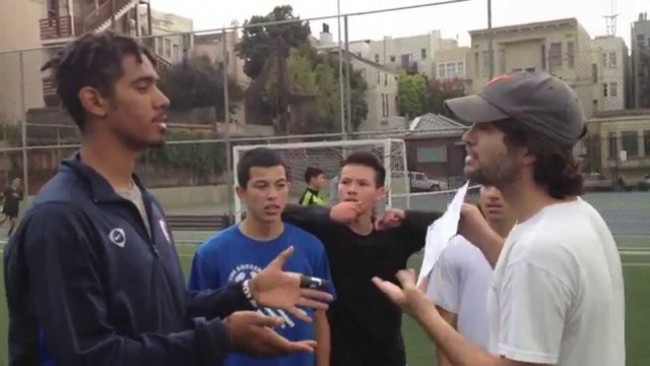 This week a curious piece of video went viral: a real time dispute, shot on a cell phone, over the use of a soccer field in San Francisco. It seems that some dudes from Dropbox wanted to play some dudes from Airbnb so they went online and paid $34 to reserve a field. When they got there they were told by the local teenagers using the field that their permit was meaningless; The field had its own longstanding system, where if you want to play you challenge the team on the field, and if you win you get the field and take on the next challenger.
I clicked on this video because of the headline: "Dropbox Dudes Tried To Kick Kids Off A Soccer Field." Those Dropbox Dudes sound like assholes, I thought to myself. I lived in San Francisco for six years, I still have a lot of friends there, and I left at least part of my heart there back in 2001. I care about the city and I'm interested in what happens to it. So I clicked and read on:
Tech bros will stop at nothing to get what they perceive to be theirs. In the latest example of unchecked hubris, we witness as a squad of adults in Dropbox jerseys argue with and cuss at children over a San Francisco soccer field.
The post concludes, "You couldn't cast a more symbolic display of tech-fueled gentrification in San Francisco."